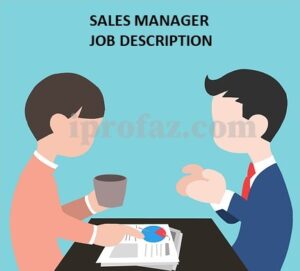 Sales manager job description sample given in this page helps Human resources personnel in organizations in recruitment of Sales managers. Sales manager is the Sales functional / departmental head who has the responsibility of leading a team of sales persons and ensure that sales goals are fulfilled consistently. The typical tasks carried out by a sales manager are developing sales plan, assigning sales regions to respective team members, assigning sales targets, getting his/her sales team trained, monitoring sales force and recruitment of skilled sales people. Below Sales manager job description sample can be used by recruiters for putting up advertisements for hiring.
Sales manager job description example
Sales manager profile: We, <XYZ Company> are looking to recruit a Sales Manager to take on the responsibility for managing and leading our team of sales personnel. The Sales manager shall take care of developing sales plans to achieve sales objectives and assign targets to sales team personnel. The Sales manager shall also train, motivate, monitor, control and coordinate with sales force to achieve intended results.
Qualification: The minimum educational qualification required for the position of Sales manager is a Bachelor's degree in business management. Specialization in sales management would be preferred. Master of Business Administration (MBA) would be an added candidate qualification that will be valued.
Previous work experience: A prior work experience of <x> number of years in sales would be required at a minimum for this job position. The candidate must have a good track record of achievement of sales goals.
Sales manager key skills: The key skills required in the Sales Manager include:
excellent oral and written communication skills
leadership skills
good presentation skills
sales forecasting skills
sales budgeting skills
basic computer skills
knowledge of territories and areas where sales can be made
knowledge of possible potential customer organizations
Sales Manager Responsibilities:
Below are the responsibilities of a typical sales manager:
Recruit competent and skilled sales force.
Develop a sales plan that address objectives, forecast of sales, geographical areas, sales budget and allowed expenses.
Allocating team members to chosen market segments.
Achieve the planned sales objectives.
Assigning team sales target and individual sales targets.
Ability to devise a pricing strategy based on market conditions, economic factors and internal organizational factors.
Closely monitoring sales activities, targets and performance of the sales team.
Closely work with Marketing team for capitalizing on leads.
Motivate sales personnel and educate them on the best ethical ways of achieving sales goals.
Promote the products / services of our organization.
Expand our present customer database and maintain good business relationships.
Discuss lessons learnt from previous sales experiences.
Recommend rewards to top performing sales personnel.
Reporting sales results to Top Management.
The above Sales manager job description sample / example may not only be used for recruitment purposes, but also while preparing the roles & responsibilities of a sales manager position while implementing standards / best practices in organizations.
Related articles: